Regular price
$129.90 USD
Sale price
$59.90 USD
Unit price
per
Sale
Sold out
Free Return

Fast Shipping

Secure Payment

You Know How To Do A Pushup, But Do You Know How To Do It Right?
This Foldable Push Up Board is color-coded in order to provide multiple highly effective pushup postures. Our at-home workout equipment is specifically designed to target different muscle groups (chest, shoulder, triceps, biceps, and back), while engaging your core. Combining with Resistance Bands set, it will allow you to get strength training, resistance workouts, and cardio exercise right at the comfort of your home!
💪【QUALITY MATERIAL & NON-SLIP】Push up handles are made of thick, high load bearing material. The design is suitable for different shoulder widths. Non-slip handles help distribute force evenly, thereby reducing stress and joint strain on the athelete's wrists and elbows. Multiple non-slip plugs help stabilize you body while you exercise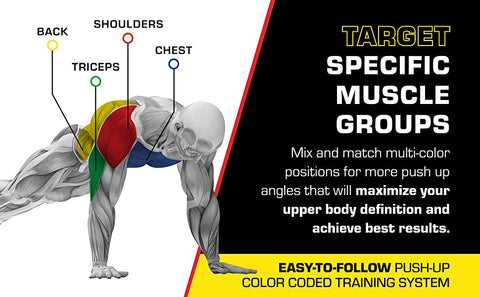 💪【MULTIFUNCTIONAL & INTERESTING】This multi-functional 36-in-1 system push up machine is color-coded for pectorials, abdominals, arms and latissimus dorsi.We provide an instruction manual to give you professional training guidance
💪【FOLDABLE & PORTABLE】This is a foldable pushup stand ,which is lightweight, compact and portable. Whether you're at home, office or gym,you can use it to enjoy workout experience! Lose fat and build muscle anytime,anywhere!
Strong strength training system at home
The upgraded version has a more powerful push pad. The simple, portable strength training equipment helps you stay in good shape with professional workouts anytime, no matter where you are. Like a trainer, it can help you avoid some of the wrong push-ups, and it's a safe option to apply enough intensity on your own weight. Whether you're a beginner or an experienced fitness enthusiast, it's a great addition to your gym.
The board is not limited to push-ups, it can also be combined with ankle buckles and door buckles for more areas of strength exercises.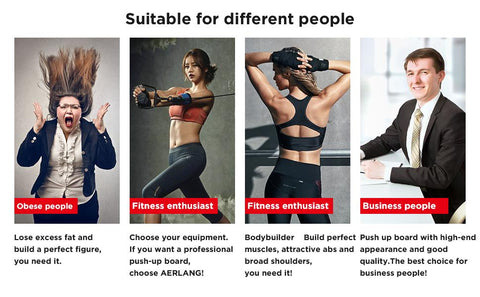 Specifications:
Push Up Board - 36-in-1 Foldable Pushup Fitness Stand for Portable Strength Training. Rugged, Stable Equipment for Home Gym Workout for Men & Women
Material: Acrylonitrile Butadiene Styrene
Support Board Size: 27 x 11 x 4 inches
Weight: 2.75 lb
Handles: 1pair
Resistance Bands: 1pair
Why Choose GYMMAJOR Push Up Bar?
Inappropriate fitness methods may lead to unsatisfactory fitness effects or muscle injury! GYMMAJOR push-up bar is your professional home fitness trainer, which giving you professional guidance, so that you can avoid injuries during training. You can make full use of your free time to do exercises, thus saving money and time at the gym.

Notes:
Please allow 1-3cm differs due to manual measurement.

View full details
I've encouraged my family and friends to buy this
Sturdy, easy to assemble, keep using to see results.
It's difficult to get use to the first few times you use it.
This product looks and feels great, a bit on the cheap plastic side, however it holds out great. While I wish it came with a strength measurement for the rubber bands, they do their job. It is a bit tricky to get the hang of it, I don't usually do pushups with all my weight on the wrist, it took me a few sets to get comfortable.